Joseph
The Old Testament book of Genesis -- the first book in the Bible -- tells the story of a man who suffered because of the actions of his brothers. They were very jealous of Joseph because their father liked Joseph the best and gave him special treatment. It also didn't help that Joseph had dreams of his brothers (and parents) bowing down before him, and he told his family about those dreams. This was more than his brothers could stand. The decided to get rid of this "dreamer". At first they planned to kill him. Then they decided to sell him into slavery in Egypt where he would never be heard from again. (At least that is what they thought.) Joseph was sold into slavery because of the jealousy of his brothers.
In Egypt Joseph became the slave of a wealthy man named Potiphar. Because of Joseph's good character and hard work he was soon promoted to be in charge of Potaphar's household. Just when it seemed that things were getting better for Joseph, he was falsely accused by his master's wife and thrown into prison. Again he suffered because of the bad behavior of someone else.
While in prison, Joseph helped a servant of the Pharaoh of Egypt. This man promised to tell the Pharaoh about Joseph's innocence when he got out of prison. The man got out, but he forgot to plead Joseph's case to Pharaoh. Joseph contnued to suffer because of the forgetfulness of another person.
The amazing thing is that God worked through all of these events to bring wonderful blessing to Joseph, his family, and many other people. What seemed like a tragic, sad story had a really great ending. Joseph just kept believing in God and finally he saw God's blessing. The pain and suffering were not caused by God, but they were used by God to accomplish something very good.
Read the whole story in Genesis chapter 37 and chapters 39 to 45.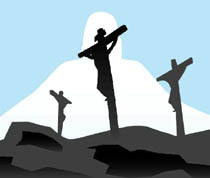 Jesus
If anyone ever had a right to cry out to God that life is unfair, it would be Jesus. He lived a sinless life. Jesus healed people and showed compassion on the outcast. He taught the truth about God and pointed out the hypocricy of the religious leaders of his day. For this he was hated, arrested, mocked, beaten, and killed in the most cruel way devised by man at that time. His enemies could not find any true accusations to bring against him. They had to make up something in order to execute him as a criminal.
Why should an innocent man die for the sins of others? This is injustice to the highest degree! It is unfair! But in giving his life, Jesus brought blessing to many people. God used the circumstances created by the greed, lust, and hatred of people to forgive those very sins.
Click the picture above to hear what Jesus said about suffering.
Read the whole story in the Bible in the first 4 books of the New Testament, the gospels of Matthew, Mark, Luke, and John.